News
Published on February 14th, 2014 | by Craig Homeyard
0
Captain Price Making His Way To Call Of Duty: Ghosts
It seems that an old veteran may be making his way to Call of Duty: Ghosts in the upcoming weeks. I'm talking about one of the characters that has made the franchise what it is today, i'm talking about Captain Price. A mysterious tweet from Infinity Ward has shown off a new image of what appears to be the ageing captain in Call of Duty: Ghosts.
Infinity Ward simply posted up the picture (which you can see below) along with the words "Price is Coming #CODGhosts". If this news does turn out to be true and not a hoax, then it seems to us as if he will be added into the game as a downloadable character for multiplayer. This wouldn't be the first Modern Warfare character to make his way into Call of Duty: Ghosts multiplayer, the appropriately named Ghost from Modern Warfare 2 was initially given to those of us that pre ordered the game at Gamestop, however there have been no further characters added into the game since then.
Infinity Ward have made no mention that he will be added in to CoD: Ghosts as a downloadable character yet, however it's what we expect they'll do. However it may just turn out that we're wrong. Earlier this week a series of details and rumours were leaked regarding this years upcoming Call of Duty, one of these rumours that stated Captain Price would be making a return in the sequel, Modern Warfare 4. Perhaps this post on Twitter is acknowledging this news, and could be possibly be hinting that a reveal or teaser is inbound soon?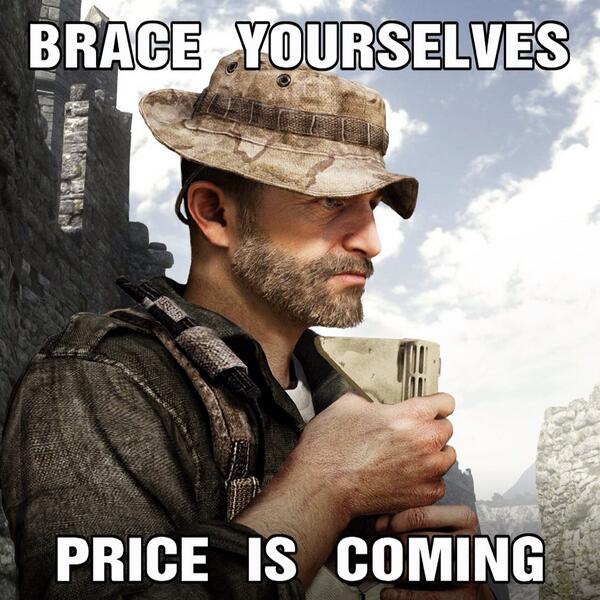 There have been no official comments as of yet, other than the image that was released, so just take any speculations with a pinch of salt for now.
You can pick up Call of Duty: Ghosts for just $39 now right here.